My first year of training at MS POS
First trainee in 15 years - how and why did I end up here? And who is an "IT and systems management assistant"? Now I'm 24 years old and I'm supposed to go back to school? There were quite a few questions and considerations I asked myself at the beginning of my training at MS POS. And now one year is already over. For a majority the last 12 months were a "lost year", not for me!
At the beginning of my deliberations, I approached the whole thing with a simple desire: "I want to gain practical experience." IT and business have always been a passion of mine, but during my business informatics studies, the practical relevance was simply missing. Memorizing presentation slides for hours without the slightest idea of what every day working life looks like was simply not for me. With the urge to learn and develop myself, I started looking for an apprenticeship. Right after the first interview with our CEO Konstantin Gergianakis I knew: That's where I want to go! MS POS offers me the chance to work in a small family environment with real professionals in a team. Together, we have been able to master a number of challenges in the past 12 months. I particularly like the freedom we are given to solve a wide variety of tasks. So far, I have always been able to contribute and support the team.
IT and Systems Management Assistant
IT and systems management assistant sounds impressive at first, but what it really means? What do you do as part of the role and what can you do? Surely you can find employees in one or the other company who have learned this profession and can answer these questions for me…? Unfortunately not! IT is developing at breakneck speed, and of course the education system has to keep up. That's why this training occupation was newly created in August 2020, as part of the "reorganization of IT occupations". Naturally it does not mean that the wheel reinvented, there are still many similarities to the IT merchant, which existed until the beginning of my training. Officially, the job description is as follows:
"Businessman for IT system management
Whether hardware, software or services: The Kaufmann für IT-Systemmanagement (also known as KfIS for short) is an expert in the sale of IT services. Thanks to the commercial expertise and industry know-how, the person knows how best to market the services and bring them to the customer. The role also involves the administration and management of IT systems, the classic industry businessman or woman for the IT sector."
(Source: https://www.ausbildung.de/berufe/kaufmann-fuer-it-systemmanagement/ )
In my first year of vocational school, I already learned a lot of this. From classical economics, employee laws and quotation costing up to programming, network technology and database management systems - it was all there.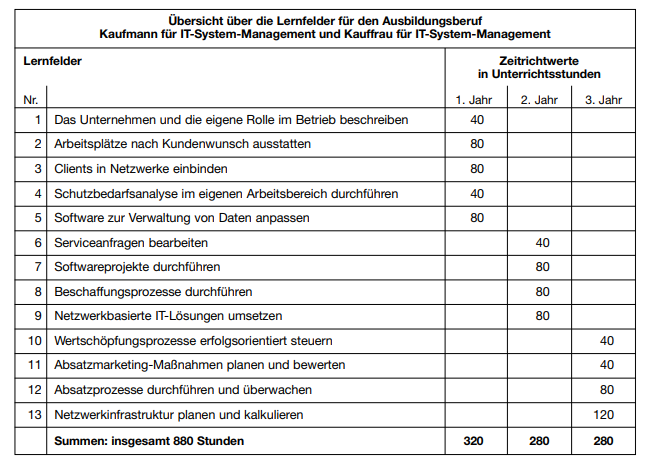 Download "Ordinance on vocational training" (PDF)
What could I learn in practice?
The POS solutions offered by MS POS are extensive and first-class. So my first duty was to familiarise myself with them. After all, I had no experience with POS systems, except as a consumer and in a part-time job as a student at a gas station. So in my first year of training, I was already given the opportunity to get to know the different POS solutions and to help the team in preparation, installation and support.
My frequent tasks included, for example:
hardware and software preparation
carrying out installations at the customer's site
customer consulting and support
project planning
marketing basics (including my blog posts 😊)
What does my daily work routine look like?
Actually, it's not that easy to describe, because the daily tasks can always change. That's why I've also learned to stay flexible and keep a cool head. As a rule, however, I arrive at the office shortly before 9:00 a.m., open the laptop and check the first e-mails. Gradually, colleagues with caffeine deficits also "stagger" past my desk. Due to the pandemic, there is unfortunately no morning exchange of information at the coffee machine - a pity.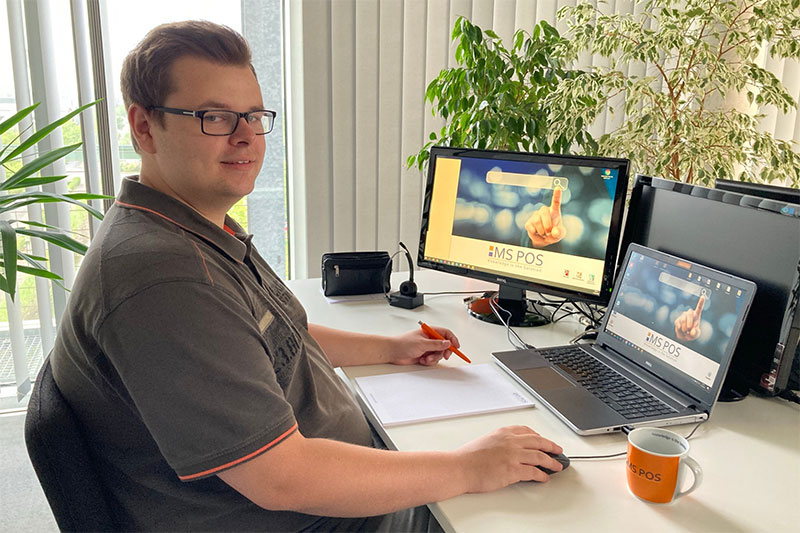 If there are no urgent matters to deal with and no meetings are scheduled, I first make a few notes on the previous day's activities. After all, I have to write a training report at the end of the month. Fortunately, this can now all be done digitally! In the meantime, I have been able to familiarise myself particularly thoroughly with the RMH and unTill POS solutions, so that I am already in a position to support many customer inquiries on my own. I'm on call all day, should anyone need support. My current team leader Karsten Perlin sits in the same office as me. Together, we discuss upcoming projects, plan the process, and consider which requests are on the agenda. When we're done with that, I get to work to directly implement what we've just discussed. Not a day goes by without customer contact. What I have already learned in any case is that good and friendly communication with our customers is the be-all and end-all. Not everything can always run smoothly, but it is important to keep customers informed and give them the feeling that their concerns are being taken care of. From around 5 p.m., all my colleagues give the current status of their tasks so that we can prepare for the next day. And at 5.30 p.m. it's time to call it a day!
always been a technophile, took computer science as 4th major in secondary school
10th grade Middle School completed with FOR qualification
3-year school education to become an information technology assistant with completion of a technical bachelor
during the technical bachelor I realised that I find business very interesting and would like to combine it with IT
started studying business informatics
With the desire for more practical relevance, I changed from studying to training as a "Businessman for IT and Systems Management" at MS POS GmbH
shortened the training period from three to two years after the first year of training

("our" Martin - always up for a joke...here during a photo shooting for the blog posts)
The Corona pandemic changes are clearly felt in everyday office life. Care is always taken to keep the number of employees low in the office or in one room. Certain areas such as the break corner are limited to one person. Many colleagues work from home and quick tests are regularly carried out in the office. For me, this is "normal", I have not experienced anything else. In the vocational school, however, Corona with all its accompanying circumstances is much more noticeable. At the beginning of the school year, although we had many protective measures, we still had face-to-face classes. Although Corona school operations were well planned, it felt as if all other organisational issues had taken a back seat to this.
Initially, there were 30 of us in one class, but then we were divided into two groups. As a result, the timetable was pretty shaken up at first and my school days changed into a 14-day rhythm. One week I had classes on Mondays and Thursdays, the next week on Thursdays and Fridays. You eventually get the hang of it yourself, but for your colleagues in the company and for project planning, such a division is exhausting.
From mid-December 2020, face-to-face teaching was discontinued and for the time being there was only distance learning. Personally, that didn't bother me - two car trips less per week. It helps the environment and the trainee's wallet. However, my lessons were spread over two partner schools, which meant that I had to use two different sets of technical equipment. While we fortunately had Microsoft Teams available at one school, the other school had to resort to "Big Blue Button". In the meantime, we students had access to Teams, only the teachers of the school did not... From time to time there were technical problems, but in general lessons were carried out.
Performance-wise, I couldn't notice any change related to distance learning. However, since I already have a completed ITA training, technical subjects are quite easy for me. Some classmates without prior knowledge had a much harder time. Many of them wanted to discuss topics face to face in class, which is unfortunately not possible. These classmates are therefore quite behind in the technical part and have to work intensively on their own or with the support of the training company. Auxiliary materials such as textbooks might have helped, but since the beginning of the school year we have been hearing the same thing over and over again: "The books haven't come out yet," or "The books still need to be checked," or simply "I don't know." "I don't know" - our teachers say quite often. Due to the "reorganisation of IT professions", no one seems to have a clue anymore. No one can tell us what our exams will look like. Sometimes you feel like a guinea pig for the coming grades ...
By mid-May, the incidences were down enough to allow face-to-face classes again. There was also enough time to write one or two exams. The constant tests at school made us feel much more confident. It would only be great if it were finally able to take off the mask in class. In winter, the glasses fog up all the time - in summer, when it's over 30°, it's unbearable. I hope for a better second year!
Small company vs. large corporation
MS POS GmbH is not a small company, but of course it is also not a large corporation like SAP or Microsoft. I made a conscious decision to complete my training in a smaller company. Different environments require or promote different skillsets. In a smaller company, there is more flexibility, resourcefulness and mutual trust. In a large company, some processes are certainly more structured, everything runs according to a precise plan and quality is ensured through controlling.
Both are important to me and I would like to get to know both. In a large company with many trainees, there would certainly be the advantage that some areas are more regulated. In a small company, I have the opportunity to "think outside the box" because everyone works closely together and everything seems to be linked. I get a lot of helpful tips from colleagues in other departments that I would never go through or even get to see in a large company.
All in all, I am very happy with my decision, I learn new things every day and get the practical experience I was missing during my studies. My colleagues are super helpful and never make me feel like "just" the trainee.