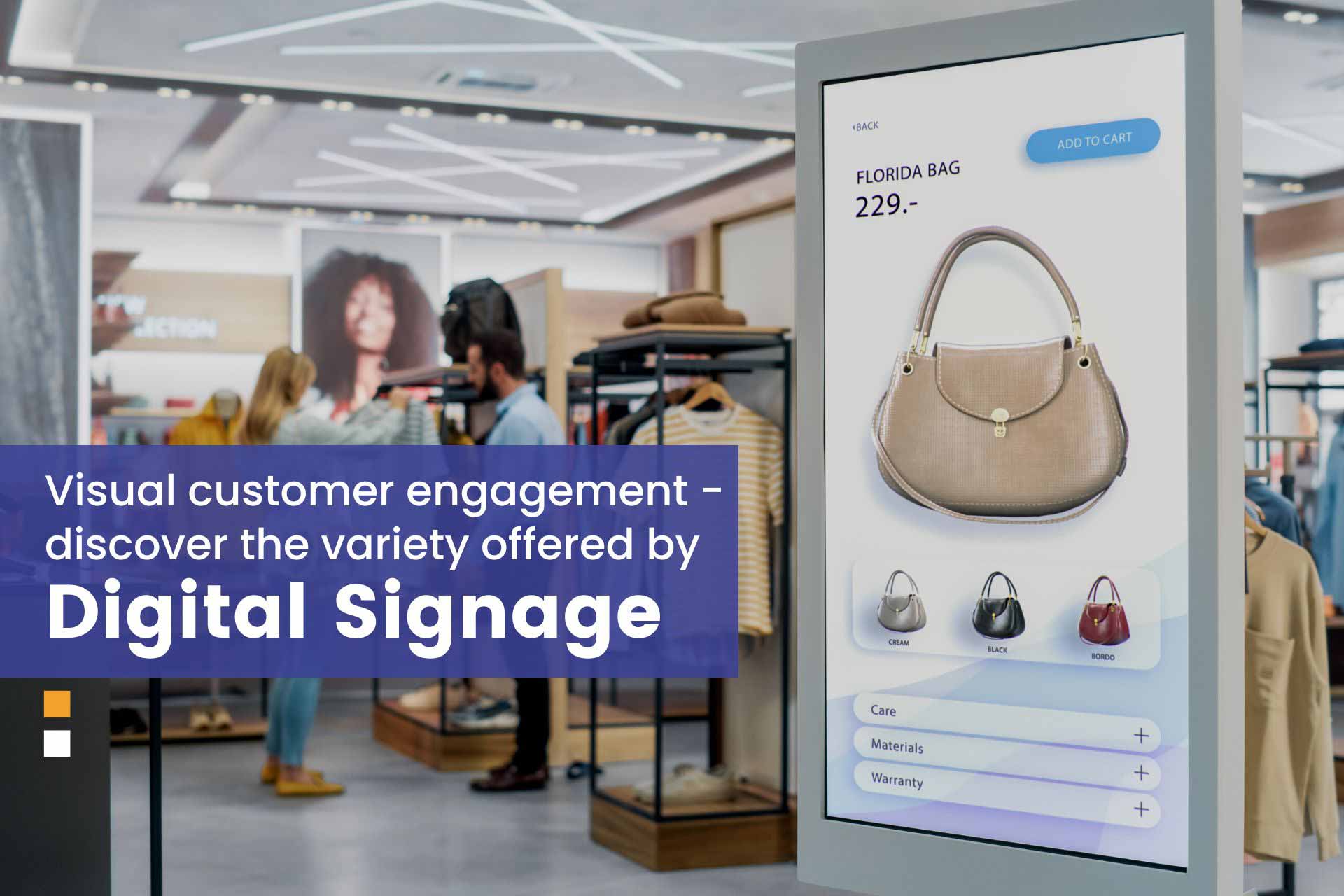 Hip, trendy, always well informed? If you want to present your messages in a timely, modern, and fashionable manner, you must have a digital signage. A digital signage display is used as a visual communication option, and it is currently considered as one of the most flexible banners on the market.
Companies all over the world use it to perfectly stage their products, services, or any other important content. These displays are available in many different shapes and sizes - from tablet devices to single large-format screens, with ranges like video walls with multiple screens, free-standing kiosks or shelf-edge displays - the possibilities are numerous and can be combined in any way, depending on your wishes and requirements.
Digital signage – the facts
Reduce your costs, save more money
Like any other conversion, digital signage does require an initial investment, no question about that. Although in the long run, using digital signage will help you and your business save real money. That's because once your displays are up and running, you can say goodbye to all the ongoing printing, all the delivery and installation costs that would otherwise be incurred every time your paper-based point-of-sale needs an update.
There will also be no need for costly video production. With content management systems like Signagelive, free-to-use resources like their Webpage app, lets you showcase your company's existing video assets by displaying your YouTube channel or even a video-centric website URL.
Additionally, you can offset initial investment costs by selling ad space on your own network.
Simply switching from paper to super-efficient and long-lasting LED digital signage networks will reduce your company's carbon footprint in the long run.
Increase engagement and revenue
The digital signage has been proven to engage more viewers, expanding the viewer scope, increase your productivity, and maximize the potential of all revenue opportunities. Its colourful and dynamic interface brings products and services to life and delivers fresh, cutting-edge content that is continuously relevant contextually.
Digital signage displays are often installed at cash registers or in their immediate vicinity. This enables your business to play in timely calls-to-action and noticeably increase the chance of a last-minute impulse purchase.
Fast and efficient updates
Gone are the days when your advertising had to settle for one message per billboard. With digital signage, you have endless options to create a dynamic series of content that is updated either on specific digital signage displays or on all of them.
Messages can be targeted and updated regularly to match specific times, days, events, and locations where your digital signage displays are installed. Features such as tagging make it quick and easy to categorize and then identify playlists and players.
A quite useful tagging example is, if you tag your players by region, you only need to schedule the appropriate region-specific playlist once to publish it to all digital signage displays in that geographic area. CMS solutions like Signagelive, among others, automatically download assets to your players where your playlists are saved and ensure that you don't have to republish content that you edit in an active playlist.
User-friendly and efficient
With user-friendly CMS solutions like Signagelive, any team members can help update your electronic signage. Local users can also edit content for the screens at their present location.
With features like Granular User Permissions, you can grant individual users, and/or user groups access, to manage content on some, or all your digital signage displays.
Enhanced customer experience
How often do we have to stand somewhere waiting, wherever it's at airports, train stations, events, etc.? On these occasions, with a digital signage display, you will attract customers attention and help them enjoy the time waiting with entertainment and new infotainment, while displaying targeted advertising messages, with multi-zone digital signage templates.
Digital signage - the application possibilities are manifold
Instore TV or video walls as entertainment or advertising space
Multimedia advertising stands with information about offers, events and services
Double screen scales as product or advertising information directly at the POS
POS screens for direct customer contact
Touch kiosk solutions and customer guidance systems, as interactive information systems for navigation and simplification in product searches
Electronic shelf labels for price and item information on digital shelf labels, smartly updated with the touch of a button
Digital "board" for position displays or as a display for important news for your customers and/or employees
Digital signage - what we can do for you
You would like to use the various application possibilities of Digital Signage, and you are also planning to use one or more displays for your company?
As your "all-in-one partner", we offer to install the required MagicINFO software remotely by a qualified MS POS employee. 25 MagicINFO Lite licenses are included in the delivery scope. We can order, set up and install the necessary hardware on request.
For the effort of the remote installation approx. 0,5-1 MT are considered. The effort for the installation of the hardware is calculated depending on the extent.
Additional services can be booked as an option:
1.  Defining the digital signage project goals (kick-off)
2. Creating an action plan
3. Setup of a MagicINFO account, basic account setup (users and roles, default settings), configuration (creation of display hierarchies and playlists)
4. MagicINFO handover to two MagicINFO users
5. Two weeks of hands-on assistance (support/training)
6. Final onboard meeting/support
The effort for optional services is approximately 1 - 1.5 MD.
We are happy to advise and support you on your business endeavours, feel free to Contact us. We will take care of your request as soon as possible.